FUTURE AGE (SERIES I) STYLE 01 WAS DESIGNED FOR THOSE SEEKING HIGH FUNCTIONALITY, VERSATILITY, AND ADAPTABILITY IN CARD TEMPLATE DESIGNS. ITS LAYOUT IS HIGHLY FLEXIBLE AND CUSTOMIZABLE. AT THE ORIGIN OF STYLE 01'S DESIGN IS A "NEAR FUTURE" VISUAL THEME INSPIRED BY THE FOLLOWING CONCEPTS/IDEAS: CIRCUITRY, MOTHERBOARDS, ANALOG, DIGITAL, SCREENS, LIGHTS, HACKERS, RADIATION, NUCLEAR POWER, ELECTRICITY, MECHANICAL SUITS & FRAMES, ROBOTS, ANDROIDS, VEHICLES, ENERGY DISTRIBUTION, AND MORE.
STYLE 01 HAS THE HIGHEST NUMBER OF EDITABLE ELEMENTS OUT OF ALL FUTURE AGE (SERIES I) CARD DESIGNS. NOTABLE ELEMENTS AMONGST THESE ARE 2 ARTWORK DISPLAY STYLES (NORMAL AND SCREEN) THAT GIVE THE CARD DISTINCTLY DIFFERENT VISUAL THEMES.
---
SHARE MANIFESTATION CARD CREATION SOURCE
---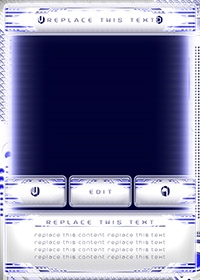 STYLE 01'S FRONT CARD TEMPLATES ALL INCLUDE 100+ GRAPHICAL LAYOUT ELEMENTS THAT CAN BE EASILY COLOR-EDITED (EITHER USING THE COLOR-PICKER, OR INCLUDED LAYER STYLES). ALL ELEMENTS OF THE CARD TEMPLATES ARE ORGANIZED INTO NEATLY ARRANGED PHOTOSHOP LAYER GROUPS, ALLOWING CONVENIENT CARD LAYOUT CHANGES BY ADJUSTING THE VISIBILITY SETTINGS OF THE LAYER GROUPS. ALL GRAPHICAL ELEMENTS ARE SORTED INTO 6 MAIN LAYER GROUPS: ROW 01 (HALF), ROW 02 (FULL), ROW 03 (HALF), ROW 04 (FULL), ARTWORK, AND BACKGROUND.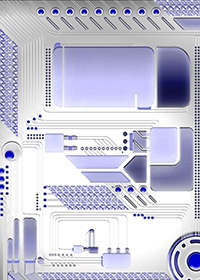 STYLE 01'S REAR CARD TEMPLATES ALL HAVE 50+ GRAPHICAL LAYOUT ELEMENTS THAT CAN BE EASILY COLOR-EDITED (EITHER USING THE COLOR-PICKER, OR INCLUDED LAYER STYLES). THERE ARE 5 MAJOR LAYER GROUPS CONTAINING THE REAR CARD'S ELEMENTS: ARTWORK, PARTITIONS, SCREENS, CIRCUITRY, AND BACKGROUND. THE PARTITIONS LAYER GROUP CONTAINS 4 DIFFERENT PARTITION DISPLAY TYPES. THE SCREENS LAYER GROUP CONTAINS 4 DIFFERENT SCREEN DISPLAY TYPES. THE CIRCUITRY LAYER GROUP CONTAINS 5 LEVELS OF FULLY EDITABLE CIRCUITRY ELEMENTS.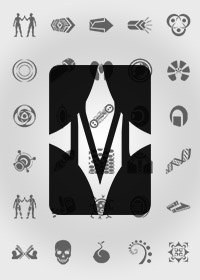 INCLUDED IN THE STYLE 01 TEMPLATE ARE A PLETHORA OF ICONS THAT CAN BE USED IN THE CARD'S DESIGN. A FOLDER NAMED "ICONS" CONTAINS 30 .PNG VERSIONS OF THE ICON AS WELL AS A .PSD FILE CONTAINING ALL 30 ICONS IN FULLY EDITABLE PHOTOSHOP SHAPE FORMAT. THE VECTOR BASED NATURE OF PHOTOSHOP SHAPES MAKES THESE ICONS SCALABLE TO ANY SIZE, WITHOUT REDUCTION IN GRAPHICS QUALITY. OPENING THE .PSD ICON FILE REVEALS A LAYER GROUP CONTAINING THE 30 DIFFERENT ICONS ON SEPARATE LAYERS NAMED AFTER THE IDEAS THEY REPRESENT. SOME ARE MORE SUBJECTIVE IN NATURE THAN OTHERS TO PROVIDE CARD MAKERS WITH FLEXIBILITY IN DEFINING MORE ORIGINAL IDEAS. ALL OF THE ICONS ARE ALREADY IMPLEMENTED INTO THE CARD FRONT FILES AS SMART OBJECTS, IN SPECIALLY DESIGNATED "ICON/TEXT" LAYER GROUPS. THIS ELIMINATES ANY NEED TO PLACE ANY ICONS DIRECTLY INTO THE CARD DESIGN UNLESS DRAMATIC CHANGES IN THE CARD'S DESIGN ARE MADE BY THE USER.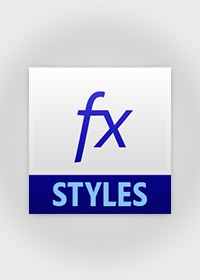 FUTURE AGE (SERIES I) STYLE 01 COMES WITH A TOTAL OF 7 PHOTOSHOP LAYER STYLES, 4 OF WHICH CAN BE APPLIED TO TEXT AND ICONS IN THE CARD FRONT TEMPLATE. THE 4 CARD FRONT LAYER STYLES ARE INCLUDED IN A SEPARATE PHOTOSHOP .ASL (STYLES) FILE FOUND WITHIN THE MAIN FOLDER. THE STYLES CAN EASILY BE APPLIED TO ANY ICONS AND TEXT BY SELECTING THE TEXT OR ICON LAYER AND CLICKING ON THE PREFERRED LAYER STYLE IN THE STYLES PANEL. 3 OUT OF THE 7 PHOTOSHOP LAYER STYLES WERE DESIGNED FOR LOGOS/SYMBOLS AND ARE LOCATED IN THE CARD REAR TEMPLATES.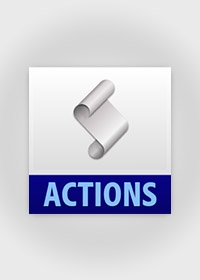 THE STYLE 01 TEMPLATE INCLUDES TWO ACTIONS DESIGNED TO SAVE COMPLETED CARDS IN DIFFERENT FORMATS. THE FIRST PHOTOSHOP ACTION CROPS A FINISHED CARD'S BLEED SPACE AND THEN IMMEDIATELY SAVES THE CARD AT ITS DEFAULT RESOLUTION AND COLOR MODE (RGB). THIS MAKES THE ACTION USEFUL FOR SAVING CARDS TO BE USED IN DIGITAL MEDIA. THE SECOND PHOTOSHOP ACTION CONVERTS THE CARD FROM RGB COLOR MODE TO CMYK COLOR MODE (THE STANDARD FOR PRINT), AND SAVES THE CARD WITH THE .25 INCH BLEED SPACE. THIS SECOND ACTION WAS DESIGNED FOR SAVING THE CARD FILES FOR PRINT.
A FAIRLY DETAILED INSTRUCTION MANUAL IS ALSO PART OF THE STYLE 01 DOWNLOAD. THE INSTRUCTION MANUAL COMES IN THE FORM OF A XX PAGE ADOBE ACROBAT (.PDF) FILE. ITS TABLE OF CONTENTS INCLUDES THE FOLLOWING SECTIONS: (CARD FRONT) LAYER HIERARCHY, PLACING ARTWORK, CHANGING ICONS, ICON/TEXT STYLES, SPECIAL ELEMENTS, EDITING COLORS, BACKGROUND, (CARD REAR) LAYER HIERARCHY, LOGO/SYMBOL STYLES, SPECIAL ELEMENTS, EDITING COLORS, BACKGROUND, (INDEPENDENT) ACTIONS, AND FONT RECOMMENDATIONS. IN EACH SECTION, THE TOPIC IS COVERED BY DESCRIPTIVE TEXT THAT INCLUDES NUMBERS THAT CORRESPOND TO VARIOUS IMAGES OF LAYERS, POP-UP WINDOWS, EDITING TOOLS AND OTHER FEATURES AND FUNCTIONS FOUND IN PHOTOSHOP. THE INSTRUCTION MANUAL CONTAINS VARIOUS ILLUSTRATIONS ON THE SECTION TITLE PAGES, ALONG WITH SEVERAL CARD DESIGNS THROUGHOUT THE DOCUMENT, SHOWING VARIOUS LAYOUTS THAT CAN BE MADE USING THE TEMPLATE. IN THE FONT RECOMMENDATIONS SECTION, LIVE LINKS ARE PROVIDED TO DOWNLOAD FONTS UNKNOWN DEPTHS RECOMMENDS USING WITH THE TEMPLATE.