---
CARD 16 HOSTS A MODERN AGE / ACTION-ORIENTED / DEMOLITION / FIGHTING CARD DESIGN THEME ILLUSTRATED BY HAND DIGITALLY. THIS CARD TEMPLATE'S VISUALS COMBINE GLOWING, ENERGETIC, DIRECTIONAL, IN-MOTION TEXT AREAS WITH BEAT-UP, TORN-DOWN, BURSTING CONCRETE AND BRICK STRUCTURES OVER A CALM TWILIGHT SKY, TO CREATE AN OVERALL VISUAL THEME RADIATING THE ESSENCE OF DIRECTED DESTRUCTION (CALMLY OR CHAOTICALLY). THIS TEMPLATE WAS DESIGNED TO COMPLIMENT CARD PROJECTS THAT INVOLVE CURRENT-ERA FIGHTING AND/OR CONSTRUCTION AND DEMOLITION. THE 5 ICON/TEXT AREAS LOCATED UNDER THE CARD TITLE, AND THE SINGLE LARGE ICON/TEXT AREA BURSTING THROUGH THE BRICK ELEMENTS TO THE LOWER RIGHT OF THE CARD WILL ENABLE DESIGNERS TO INCLUDE A DECENT AMOUNT OF ICON/SYMBOL INFORMATION IN THEIR CARDS' DESIGNS. THE STRAIGHT-FORWARD POSITIONING OF TITLE AND PARAGRAPH TEXT FIELDS CONTRIBUTE TO A MORE TRADITIONAL CARD LAYOUT, REGARDLESS OF THE TEMPLATE'S HORIZONTAL ORIENTATION. ANY ARTWORK WITH TRANSPARENCY USED IN THIS TEMPLATE WILL BE SEAMLESSLY INCORPORATED INTO THE TEMPLATE THANKS TO ITS ILLUSTRATED BACKGROUND. USING THIS TEMPLATE FOR ANY PROTOTYPING AND/OR PLAY-TESTING NEEDS WILL DEFINITELY EVOKE A SENSE OF AMAZEMENT AND INSPIRATION IN ALL AUDIENCE MEMBERS ENGAGING WITH YOUR CARD PROJECT.
DOWNLOAD THE $6 PHOTOSHOP VERSION OR FREE GIMP VERSION OF THIS CARD TEMPLATE BY CLICKING ON THE BUTTON LINKS BELOW.
---
SHARE MANIFESTATION CARD CREATION SOURCE
---
Sign Up to receive our Monthly Card Frames for Prototypes email updates (sent once per month).
PHOTOSHOP



SPREADSHEET | PHOTOSHOP DATA SETS & VARIABLES:
THE PHOTOSHOP VERSION OF THIS CARD TEMPLATE WAS DESIGNED TO BE EDITED WITH THE INCLUDED SPREADSHEET FILE USING PHOTOSHOP'S DATA SETS AND VARIABLES FEATURES. A SAMPLE DATA SET IS PROVIDED WITH / INCORPORATED INTO THE TEMPLATE TO SHOW USERS THE EASE AND FUNCTIONALITY OF USING THE SPREADSHEET TO CREATE A SET OF VARIED CARDS.
FOR DETAILED INFORMATION ON HOW TO CREATE A DECK OF CARDS IN WHICH EACH CARD CONSISTS OF DIFFERENT INFORMATION AND ARTWORK, VISIT THE LINK BELOW TO DOWNLOAD OUR .PDF TUTORIAL ON PHOTOSHOP DATA SETS AND VARIABLES. YOU'LL WANT TO OPEN TUTORIAL 01 – INTUITIVE.PDF AND READ THROUGH FOCUS 03: CREATE DATA SETS (PAGES 7-9) AND FOCUS 04: IMPORT DATA SETS (PAGES 10-14).
CLICK TO VISIT THE TUTORIAL DOWNLOAD PAGE
ILLUSTRATED:
ILLUSTRATED CARD DESIGNS ARE CREATED USING TRADITIONAL ART SKILLS IN THE FORM OF DIGITAL PAINTING/ILLUSTRATION. WHILE MOST INCLUDED CARD DESIGN ELEMENTS ARE NOT AS ADJUSTABLE AS THEIR MINIMAL OR STYLES & EFFECTS COUNTERPARTS, ILLUSTRATED CARD DESIGNS DO CONTAIN MANY ELEMENTS THAT CAN BE HIDDEN OR MADE VISIBLE, ALLOWING USERS TO MANIPULATE WHAT ELEMENTS ARE SEEN ON CARD'S LAYOUT.
FONT(S):
THIS TEMPLATE USES A FREELY LICENSED FONT THAT CAN BE DOWNLOADED AT THE LINK IN THE PROVIDED INSTRUCTION MANUAL.
GIMP
ORGANIZATION:
ALL GIMP CARD DESIGNS INCLUDE ALL LAYOUT ELEMENTS AVAILABLE IN THE PHOTOSHOP VERSION OF THE TEMPLATE, BUT IN RASTERIZED FORMAT. THIS MEANS THAT CARD DESIGN ELEMENTS CANNOT BE EDITED AS THOROUGHLY AS THEY CAN BE IN PHOTOSHOP BECAUSE THEY ONLY HOLD LAYER PIXEL DATA (NO SPECIALIZED LAYER FEATURES FOUND IN PHOTOSHOP – I.E. SMART OBJECTS, LAYER STYLES, ADJUSTMENT LAYERS, ETC). THIS APPLIES TO ALL ILLUSTRATED, STYLES & EFFECTS, AND MINIMAL GIMP CARD TEMPLATE VERSIONS.
FONT(S):
THIS TEMPLATE USES A FREELY LICENSED FONT THAT CAN BE DOWNLOADED AT THE LINK IN THE PROVIDED INSTRUCTION MANUAL.
CLICK IMAGE BELOW TO VIEW INSTRUCTION MANUAL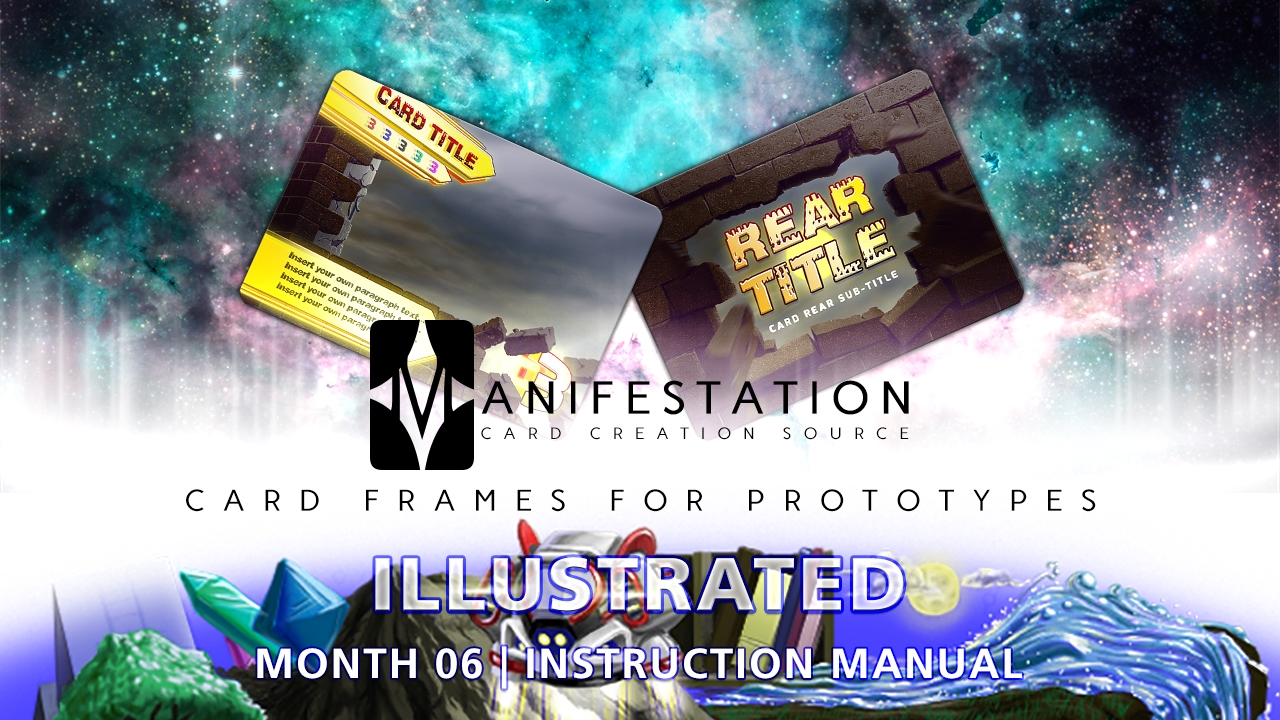 THE INCLUDED INSTRUCTION MANUAL COVERS INFORMATION ON HOW TO USE BOTH THE PHOTOSHOP AND GIMP VERSIONS OF THE CARD TEMPLATE.
THE PHOTOSHOP VERSION SECTION INCLUDES DETAILS ON HOW TO USE THE INCLUDED SPREADSHEET TO ORGANIZE INFORMATION AND GRAPHICS IN THE CARD TEMPLATE; AS WELL AS DETAILS ON ALL TEXT, ICON, AND ARTWORK ELEMENTS MAKING UP THE CARD'S DESIGN.
THE GIMP VERSION SECTION INCLUDES DETAILS ON ALL TEXT, ICON, AND ARTWORK ELEMENTS THE CARD WAS DESIGNED AROUND.